Leadership Academy
Our Program
Our all-inclusive training covers all facets of leadership to make you a well-rounded leader. Our method uses a proven scientific approach to assess your behavior, your leadership potential, and your emotional intelligence. We help you focus on your natural behaviors and work with you to move beyond your comfort zone to appropriately modify these behaviors.
The Stockard Consulting Leadership Academy is designed to be a unique career building experience. Our training emphasizes a behavior-based approach that builds on the interaction between individual identity and situational conditions.
We prepare officers in law enforcement and fire protection agencies for their current or aspirational leadership positions. Our innovative approach is targeted to serve two groups: newly promoted command officers who hold the ranks of sergeant or lieutenant, and high-potential patrol officers or firefighters.
The Leadership Academy is customized to fit the individual needs of each department. With a class size of 15 to 30 people, we can provide one-on-one attention in a time frame that is personalized for you.
Classes can be comprised of students who are all from one department, or several area departments can come together to form a leadership training group.
Demands on leadership in police and fire departments are ever evolving, and leadership methods must adjust to keep up. Leaders need to engage with the community as well as lead their peers, and our academy can help you succeed in both areas.
Whether you've recently been promoted or you're an aspiring leader, our Leadership Academy can help you harness your potential and become the leader you are meant to be.
Our Process
The Stockard Consulting Leadership Academy is more than just a lecture or seminar. It is a transformational process that teaches you to understand your own natural behaviors and adjust them to adapt to the behavior of the people you are leading.
This scientifically proven system starts with an assessment of your need for dominance, influence, steadiness, and compliance. Your individualized assessment results in a specific pattern of behavior tendencies. Our program then coaches you to apply what you've learned through a set of tools and activities, allowing you to take control of your behavior and how you interact with others.
When you begin monitoring your behavior, you are able to choose how you interact with others and how you react to situations. Over time, proper behavior in specific situations will become your tendency, even if it isn't one of your natural behaviors.
Once you understand your own behavior and how and when to adjust it, you will be able to influence your team as well as the community. This is what makes effective leaders.
Stockard Consulting's Leadership Academy follows a format that maximizes personal attention and one-on-one interaction. Choosing us guarantees:
Personal, on-site training with three experienced consultants – a human behavior expert, a senior leader, and a leadership facilitator
Scientifically validated behavioral measures to assess important aspects of leadership, including an individual feedback session and consultation with recommendations to develop or improve leadership decision-making and effectiveness
Leadership success seminar, conducted by an experienced police or fire chief, that addresses topics such as leveraging technology, developing transparency and demonstrating accountability, engaging in situational leadership, effective practices and techniques for evidence collection, incident notifications, administering discipline and budgeting, as well as the rewards and challenges of performing leadership roles
Practical training using exercises and active learning techniques such as scenario-based oral presentations to develop media and public relations skills, video recorded role-play activities to allow practice, and feedback with recommendations for improvement
Comparison between your pre-training and post-training presentation and role-playing videos to verify the effectiveness of this leadership training process
Opportunities for reflection and continuous development through the creation of a personal development plan
Feedback and coaching through open question and answer sessions
Progress check-up six months after the initial academy experience to personally monitor the progress of each student, review the status of their goals, and provide any additional guidance necessary to ensure individual leadership success
Promotional Interviews planning and implementing your command officer review and promotion process, with the goal of choosing the best candidates for your department; helping you determine the candidates that most demonstrate the competence, commitment, and credibility for leadership positions.
Our People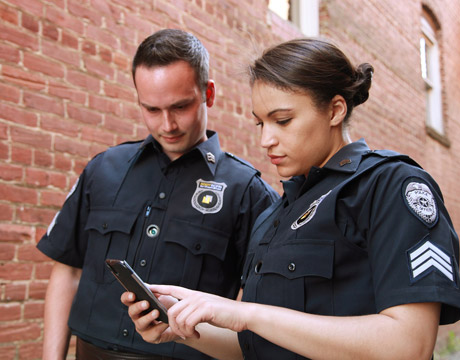 Our consultants have over 100 years of combined experience in leadership and behavioral study and corporate consulting, with backgrounds in education, administration, human resources, management, training, and facilitation.
The senior law enforcement and firefighters that present our success seminars also have over 100 years of combined experience in department leadership positions. They have a comprehensive understanding of the behaviors that are important to the communication, management, and team interactions of successful leadership.
We have worked extensively with law enforcement and fire departments, corporations, government agencies, non-profit organizations, and educational institutions in the areas of leadership assessment and training, recruiting, career development, fundraising, marketing strategies, inclusion, and other corporate training services.
Headquartered in Toledo, Ohio, Stockard Consulting offers affordable services, personalized attention, and dedicated staff members who are in tune with the needs of individuals, organizations, and corporations.
Our Proof
Stockard Consulting's Leadership Academy is not just a sales-driven program. This model is tailored to law enforcement officers and firefighters, and it is designed to enhance their skills to make them effective leaders. It focuses on behavior rather than personality characteristics, and its topics are specific and personalized for these occupations.
Our methods are backed by scientific proof. Nearly 100% of program participants indicate the accuracy of our behavior assessments and report improvement in their leadership skills after participating in our Leadership Academy.
---
"It takes more than just the proper credentials to be an effective leader. This training offers practical tools to help you interact with people and react to real situations so you'll be prepared for leadership roles."

- Michael P. Bell, Former State of Ohio Fire Marshal
"We are able to analyze problems and find team solutions more quickly after going through this process. The program has helped everyone understand our expectations and what the appropriate actions and behaviors should be. Being able to revisit the lessons I've learned has been invaluable to my success as a team leader."

- Mike Navarre, Police Chief, Oregon, OH
---
Contact Stockard Consulting Today!
For your no-cost initial consultation
You will see the difference that our Leadership Academy can make for you.
That's Our Promise!